Song list, sheet music and liner notes from our Naxos Jazz Compact Disc
Click here for sample tracks, sheet music and information about our forthcoming CD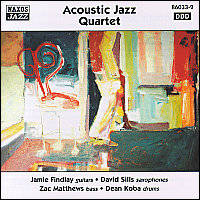 Song list
1 - Just Like It's Always Been 5:34
Zac Matthews - ZacMatt Music/ASCAP
2 - Felicidade 6:10
Antonio Carlos Jobim
3 - Bye the Grace 7:45
Jamie Findlay - Wings of Light Music/ASCAP
4 - Cause (Coz) 6:07
Jamie Findlay - Wings of Light Music/ASCAP
5 - Stomping at the Savoy 6:48
Goodman/Samson/Razaf/Webb - EMI Robbins Catalog Inc. & Rytovac Corp.
6 - Through All the Worlds 6:28
Jamie Findlay - Wings of Light Music/ASCAP
7 - Soul Eyes 4:37
Mal Waldron
8 - Fashioner 7:34
Jamie Findlay - Wings of Light Music/ASCAP
9- Living the Life 6:10
Jamie Findlay - Wings of Light Music/ASCAP
10 - Fragrance of Rhythm (I Smell Rhythm) 4:42
Jamie Findlay - Wings of Light Music/ASCAP
---
Liner notes,
by Zan Stewart, contributor to Down Beat, Stereophile
Strive for tone.
That's a phrase musicians of all styles and ages say to each other, often when leaving each other's company or at the conclusion of a phone call. Players know a good tone is central to high quality music. If you can make your notes sing, on whatever instrument, you're more than halfway to something worth hearing.
Obviously, the players in the Acoustic Jazz Quartet have done some sonic striving, for each one sports a lovely tone. There's David Sills' sweet-timbred saxophone sound, Jamie Findlay's clear, ringing acoustic and electric guitar notes, Zac Matthews' big, round bass lines and Dean Koba's most-musical, snap-crackle drum kit work.
Combining these alluring tones-which meld hand-in-glove, and with flawless intonation-with a unique style of contemporary modern jazz, the Acoustic Jazz Quartet presents a beguiling, open sound. Another essential element in the band's refreshing openness is the use of guitar as the main chording instrument. Indeed, the mix of guitar and saxophone sparked Findlay to start the band.
"The blend is so pleasing, so lyrical and vocal," says the guitarist who now co-leads the AJQ with Matthews. "There's a great history of guitar and saxophone in groups like the L.A. Four and on recordings, such as Pat Metheny's 80/81 with Michael Brecker. So I wanted to play my tunes, and jazz in general, in this context, and create a new identifiable sound." He has.
The band came together gradually. Findlay, who taught in the jazz program at the University of Southern California (USC), first met Koba on a rock date at the Knott's Berry Farm amusement park in the early '90s. He encountered him again at USC, when Koba was a graduate student. Matthews was at USC at the same time; eventually the three formed a trio. In another trio, Findlay and the bassist played with Canadian saxophonist Bill Prouten; when the latter returned to his homeland, they sought out Sills and, in 1996, the AJQ was begun.
Everyone in the AJQ resides in Southern California, where they're integral parts of the jazz and popular music scene. Collectively, they've worked with such formidable artists as Pete Christlieb, Bill Watrous, Walter Norris, Benny Bailey, Alex Acuńa, John and Jeff Clayton and Cecilia Coleman.
Findlay, who's from Seattle Wa., moved to Los Angeles in 1974. He studied at Orange Coast College in Costa Mesa and then Musicians' Institute in Hollywood-from which he graduated in 1979 and where he now teaches. He's made two albums, Wings Of Light and Amigos del Corazón, the latter a solo guitar recording. Findlay-who is also a member of the Bahá'í Faith choir-has an active solo career, often traveling to Europe, where last May he played on a festival in Osnabruck, Germany with such notables as Leo Kottke, Ralph Towner and Alex deGrassi.
Sills, who hails from Manhattan Beach, started saxophone at age 10, earned a BM in Classical Saxophone from California State University Long Beach, and then studied jazz with the esteemed reedman, Gary Foster. A leader of his own quartet, Sills has also made two albums: Hanging Five (Resurgent), and the newly released Journey Together (Naxos Jazz).
Matthews, from Pullman, Wa., lived in London as a youth. He moved to Los Angeles in 1992, earning his master's at USC, where his primary teacher was John Clayton. An "Outstanding Graduate" of both that school and Washington State University, the bassist has been spotlighted at the Aspen (Co.) Snowmass Jazz Festival and the Bud Shank Jazz Workshop at Port Townsend, Wa. Matthews has also appeared on recordings for Motown records and has played on several film and TV soundtracks.
Koba is from Honolulu, Ha., but moved to U.S. mainland in 1981. He eventually earned a BM in percussion from Northwestern University. At USC, from which he received his MA, he studied with Jeff Hamilton and Joe LaBarbera. He's twice resided in Hamburg, Germany, and currently lives in Long Beach, working regularly at such clubs as Steamer's in Fullerton.
I think you'll find, as I did, that this first-rate foursome's music is intriguing, melodic, distinctive, swinging and ear-pleasing.
The selections begin with a rough n' tumble shuffle blues, Matthews' "Just Like It's Always Been." Here, Findlay uses his Tom Anderson Stratocaster-with just a bit of chorusing to give a quasi-organ effect. "I wanted to write a hard bop tune where the melody seemed recognizable but wasn't something you'd heard before," says the bassist. He succeeded.
Findlay arranged Antonio Carlos Jobim's tender "Felicidade," inspired by another tenor-acoustic guitar pairing, Joe Henderson and Oscar Castro-Neves- heard on the tenorman's Jobim tribute, Double Rainbow (Verve). "I liked the feel we got: relaxed but it keeps your attention," says Koba. Note the clarity of the unison melody played by Sills and Findlay (here on Ronald Ho 6-string nylon instrument).
The guitarist's alternately lyrical and hearty "Bye the Grace"-the first of six fine Findlay compositions on the album-was written for Shoghi Effendi, the guardian of the Bahá'í Faith, who died in 1957. "This tune celebrates his life and pays respect to his passing," says Findlay.
"Cause (Coz)," a crafty Findlay blues, has two titles and two meanings. The first is for the nickname of the Bahá'í Faith, the second is for actor-comedian Bill Cosby. "He had a funky theme song for his TV show," says Findlay, who here plays his Lakewood steel-stringed acoustic.
"Stomping at the Savoy" is usually heard at a medium clip; this "walking ballad" tempo is a nice alternative. "It has a kind of effortless feel," observes Matthews. The bassist, guitarist and Sills all offer easy-going improvisations packed with pretty notes.
Findlay's swaying, percolating 6/8 number, "Through All the Worlds," was written to commemorate his marriage to his wife Jan, which took place on January 6, 1980. Their union has been a decidedly rewarding one, and has resulted in one lovely child: their daughter, Alexandra, now 11. This enchanting piece is followed by yet another: Mal Waldron's jazz classic "Soul Eyes," spotlighting a heart-felt solo from Sills. "It's a great tune on which I feel really comfortable," says the tenorman.
The very hip "Fashioner" is built around Matthews' bass groove and Koba's keen, spirited beat; the pair are complemented by Sills on soprano sax and Findlay on his Ronald Ho 12-string. It's a very open piece, based on a series of eight-bar sections followed by a four-bar tag. "I didn't want much of a melody. I felt the groove was strong enough," says Findlay.
The guitarist's "Living the Life" is in waltz meter; the theme leads into a pulsating Matthews solo, on which Koba backs him with buoyantly chattery drumming. Sills and Findlay are also featured.
The closer is a vital swinger, "Fragrance of Rhythm (I Smell Rhythm)," based, as you'd guess, on rhythm changes. Sills reveals his acumen for swift, intricate line playing and Findlay uses space to create excitement. Matthews and Koba trade zesty phrases in a fitting climax to this ace debut of which all the players can be justifiably proud.
A lot of bands are out there today, seeking an audience. What makes one group stand out while another doesn't is recognizability and quality of presentation. With its unique sound, the complementary, singing voices of its members and its high-end repertoire of originals and standards, the Acoustic Jazz Quartet should definitely command a solid spot in the contemporary modern jazz arena.
go to song list | go to top | go to liner notes
---
| | |
| --- | --- |
| | Copyright © 1999-2009 AJQ. All rights reserved |