David Sills

Tenor & Soprano Saxophone

Photo - Bob Barry
Chosen as an L.A. Times "Best Bet", David is making a name for himself as one of the finest young jazz musicians in the L.A area. "It was soon apparent that Sills, 26, is not your usual young saxophonist. His airy well-pitched sound carries hints of Stan Getz and Lester Young, and he plays with a patience that speaks of maturity. He goes straight to the heart of a lyric, forgoing the flashy excess of youth, developing the story line during his solos with touches of warm melodicism and the occasional flurry of notes."- Bill Kolhase In the L.A. Times
David's commitment to the integrity of the music is shown in his Naxos Jazz Compact Disk, Journey Together, featuring jazz giants Alan Broadbent, Darek Oles, Joe LaBarbara and Larry Koonse. This thoughtful and swinging album shows David to be a talented arranger, expert bandleader and inspired soloist. David's first album, Hanging Five debued to critical acclaim in 1997. And David has done it again with a fabulous new CD called Bigs, also on the Naxos label. This one features the same band as 'Journey Together' and is available in all of the usual locations.
"a meeting of Stan Getz and Joe Henderson, a style in which smooth reserve and technical ability combine in a single cool-to-the bone sound."
- LA Times
You can reach David and look for news and links at www.DavidSills.com
---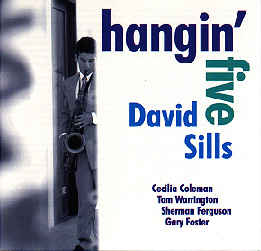 David's first CD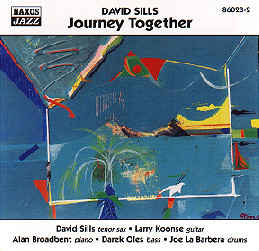 David's first Naxos Jazz Records CD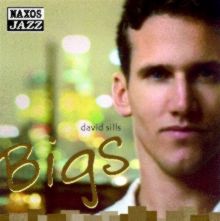 The second Naxos CD

David's 3rd CD on Origin Records
There's a CD coming out early Spring 2006 on Origin Records Watch for it!
---
| | |
| --- | --- |
| | Copyright © 1999-2009 AJQ. All rights reserved |